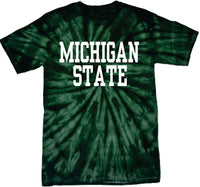 Add a burst of color to your Spartans wardrobe with our Michigan State University Spider Tie Dye Shirt. This vibrant and unique shirt captures the essence of campus energy and Spartan spirit in a one-of-a-kind design.
Features:
Officially Licensed: This tie dye shirt is officially licensed by Michigan State University, ensuring that you're wearing an authentic piece of Spartans merchandise held to the highest quality standards.
Eye-Catching Tie Dye: The standout feature of this shirt is the captivating spider tie dye pattern that infuses each shirt with a burst of colors, creating a wearable work of art that celebrates your Spartans pride.
Distinctive Style: No two shirts are exactly alike due to the tie dye process, making each shirt a unique representation of your individuality and shared love for Michigan State.
Comfortable Fit: Crafted from soft and breathable materials, our shirt offers a comfortable fit that's perfect for game days, campus explorations, or simply expressing your team allegiance.
Versatile Statement: Whether you're wearing it to the game, class, or a casual hangout, this spider tie dye shirt effortlessly combines comfort, style, and team spirit.
Available Sizes: Small, Medium, Large, XL, XXL
Material: 100% Cotton
Colors:
- Dark Green Spider Tie Dye
- Lime Green Spider Tie Dye
- Light Blue Spider Tie Dye
- Pink Spider Tie Dye