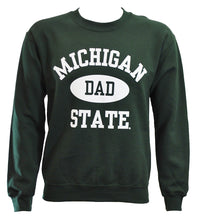 Celebrate your family's shared Spartan pride with our Michigan State University Family Crewneck Collection. From moms and dads to grandparents, this collection lets each member of the family display their love for Michigan State in cozy and stylish comfort.
Features:
Officially Licensed: Each crewneck is officially licensed by Michigan State University, ensuring that your family wears authentic Spartans gear held to the highest quality standards.
Customized for Family: Our collection includes crewnecks tailored for moms, dads, grandpas, and grandmas, making it easy for the entire family to show off their Michigan State spirit together.
Comfortable Fit: Crafted from soft and durable materials, these crewnecks provide optimal comfort for all-day wear, whether you're at the game, spending quality time together, or enjoying cozy evenings.
Family Bonding: Strengthen your family's connection to Michigan State University while creating lasting memories and traditions that span generations.
Versatile Style: Whether you're exploring campus, tailgating, or simply sharing cherished moments, our family crewnecks seamlessly merge comfort and team spirit.
Available Sizes: S, M, L, XL, XXL
Material: 50% Cotton, 50% Polyester
Colors:
- Forest Green with White Graphics
- Heather Grey with Green Graphics