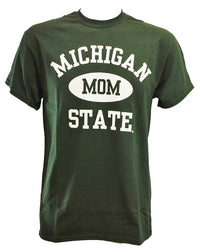 Foster a strong Spartan bond within your family with our Michigan State University Family T-Shirt Collection. From moms and dads to grandparents, this collection allows every family member to proudly showcase their love for Michigan State in comfortable and coordinated style.
Features:
Officially Licensed: Each t-shirt is officially licensed by Michigan State University, ensuring that your family wears genuine Spartans gear that meets the highest quality standards.
Tailored for Family: Our collection includes t-shirts designed for moms, dads, grandpas, and grandmas, making it easy for your entire family to display their shared Spartan spirit.
Soft and Breathable: Crafted from soft materials, our t-shirts provide all-day comfort, whether you're enjoying the excitement of game day, spending quality time together, or simply relaxing.
Family Togetherness: Strengthen your family's connection to Michigan State University while creating treasured memories and traditions that span generations.
Coordinated Style: Whether you're cheering from the stands, exploring campus, or sharing special moments, our family t-shirts effortlessly blend comfort and team spirit.
Available Sizes: S, M, L, XL, XXL
Material: 100% Cotton, preshrunk
Colors:
- Forest Green with White Graphics
- Heather Grey with Green Graphics