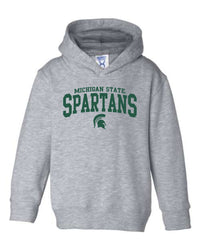 Introduce your little Spartan to a world of team spirit with our adorable Michigan State University Spartans Toddler Hooded Sweatshirt. Designed for comfort and featuring the iconic Spartans logo, this hooded sweatshirt lets even the youngest fans join in the excitement of game day.
Features:
Officially Licensed: This toddler hooded sweatshirt is officially licensed by Michigan State University, ensuring that your little one wears genuine Spartans gear that's held to the highest quality standards.
Kid-Friendly Comfort: Crafted from soft and gentle materials, our toddler hooded sweatshirt provides a cozy fit that keeps your child comfortable whether they're exploring, playing, or cheering for the Spartans.
Vibrant Graphics: The front of the hooded sweatshirt proudly displays the Michigan State University Spartans logo, allowing your toddler to show off their team pride in a design that captures attention.
Easy Dressing: The hooded sweatshirt features a convenient opening making it easy to slip on and off while ensuring your little one looks adorable and spirited.
Early Team Spirit: Start fostering a lifelong love for the Spartans from an early age. This toddler hooded sweatshirt is perfect for family outings, game day celebrations, or even cozy days at home.
Available Sizes: 2T, 4T, 5/6T
Material: 100% Cotton
Color: Dark Colors with White Logo, Light Colors with Spartan Green Logo